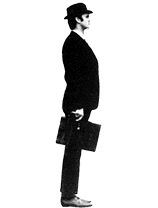 In a conversation on the newsgroup talk.origins with regards to evolutionary algorithms, the assertion had been made that a random walk is equivalent to random sampling. We will test this proposition with a simple, open source simulation.

Oh no! Dr. Pitman lost his keys on the playing field. But it's nighttime, and in order to find the keys, he will have to search by walking blindly in the dark.
---

Many have offered suggestions for the best way to conduct the search:
Look under the lamppost where the light is better.

Finite steps, then quit. (Dr. Pitman gets tired and walks home.)

Drop off edge of field. (Dr. Pitman takes wrong turn at Albuquerque. Never heard from again.)

Bounce off edge of field. (Dr. Pitman keeps wandering in field until he finds his keys. Mutters each time he reaches edge.)

Wrap around field. (Others would like to help look, but only if the playing field is some futuristic sphere like Thunderdome.)

Well, let's face it. Our tenacious Dr. Pitman won't just give up and walk home.

Mr. Teabags: Good morning. I'm sorry to have kept you waiting, but I'm afraid my walk has become rather sillier recently, and so it takes me rather longer to get to work. Now then, what was it again?
Mr. Pudey: Well sir, I have a silly walk and I'd like to obtain a Government grant to help me develop it.
Mr. Teabags: I see. May I see your silly walk?
Mr. Pudey: Yes, certainly, yes.

Mr. Teabags: That's it, is it?
Mr. Pudey: Yes, that's it, yes.